Shop Tour
Med City Collision is proud of their state-of-the-art shop. From the time your vehicle arrives in our estimating bay, every step of the repair process is performed by highly skilled ASE certified technicians using the latest in auto body repair equipment and technology.
Safety and security are a priority at Med City Collision. Our shop is EPA and Air Emission licensed and our property is completely fenced in and secure so there is no need to worry about the security of your vehicle before or after it is repaired. Because of the high quality standards of our repair shop, Med City Collision has been designated a Preferred Shop by most major insurance companies; however we work with ALL insurance companies.
If you car has received hail damage or a minor dent or ding, we may be able to repair the damage using Paintless Dent Repair. It not only gets your car back on the road faster but it is also more economical that having to fill, sand and paint over the dent.
To assure your vehicle is repaired to factory standards, our sheet metal shop is equipped with three Chassis Liner frame machines to straighten your car or truck back to original condition. When it comes to making sure the fit and finish of every vehicle we repair is straight, true and meets our exacting standards, our Car-o-Tronic measuring machine uses robotic technology to measure the underbody and upper body of your car or truck, as well as a Laser-Mate to ensure the accuracy of all upper body repairs.
If it becomes necessary to paint your vehicle, know that Med City Collision uses only PPG Waterborne paint products – some of the highest quality products available in the market. Before your car is painted, our technicians in our paint shop use computer controlled robotic technology to custom mix the paint to guarantee a perfect match every time. After the final coat of paint has been applied, the paint is baked on at a temperature of 165 degrees Fahrenheit to give your vehicle a finish that is both durable and beautiful.
Once the repairs on your car have met our exacting quality standards, it goes to our detailing shop where everything gets "scrubbed and rubbed." Only then, after each step of the repair process has been documented and signed off on by our quality staff, will your car be ready for pick up or delivery.
At Med City Collision every technician and member of our staff will treat your vehicle as if it was their own.
Med City Collision – where friendly small town service and twenty-first century technology come together.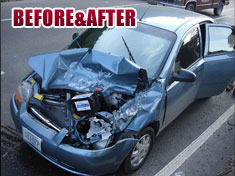 Contact Us